Mark Denne
Mark Denne is a Partner at Accenture. He joined Accenture from Symantec Corp where he was the Managing Principal for the Utility Computing practice. Prior to this he managed Sun Microsystems' Java Center in New York City, leading a team of Java architects working with financial services, media, and retail clients. Before taking this role, he was Sun's chief architect for Citibank's financial services portal, now Citibank Online, voted the world's best online banking site by both Forbes Magazine and Yahoo Magazine. As Head of Software Research and Development for Computer Automation Europe, he invented the SABRE 4GL and he brought to market the first SABRE compiler for UNIX.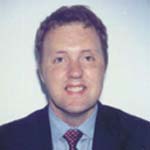 Dr. Jane Cleland-Huang
Dr. Jane Cleland-Huang is an Assistant Professor at DePaul University's School of Computer Science, Telecommunications, and Information Systems. Her research interests include Object-Oriented design, Process Models, and Requirements Engineering. As a member of the International Center for Software Engineering at the University of Illinois at Chicago, she published several research papers and developed the EBT prototype for supporting robust requirements traceability. She obtained her Ph.D. from the University of Illinois at Chicago in 2002, and is a member of the SABRE consortium, the IEEE Computer Society, and the ACM.